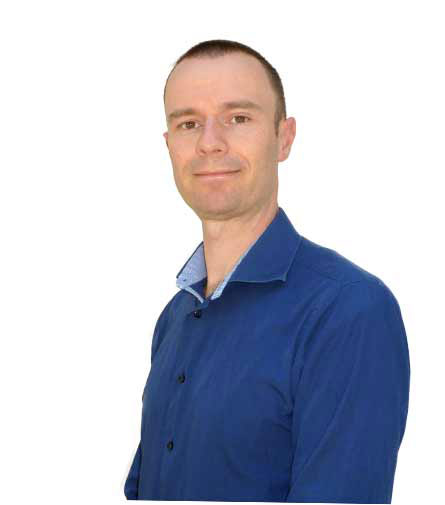 Bram Stelt, CEO of Exergen Global
Across industries, maintaining a specific temperature is critical for a variety of applications, from research and development to production to process monitoring. Doing so enables the various processes to deliver the highest possible quality, yield, speed, safety, and efficiency. Making great strides in sensor technology is Exergen Global, a company dedicated to helping clients measure temperature for industrial and medical applications with its non-contact, unpowered, infrared sensor solutions. Exergen develops temperature measurement devices that offer accuracy, greater reliability, high repeatability and less invasiveness whilst being cost efficient. "Our solutions provide clients with the quality edge required to increase the speed of industrial production processes and reduce waste," states Bram Stelt, CEO of Exergen.
Backed by over 70 patents and expertise in thermal management, Exergen's solutions help clients measure temperature accurately and quickly by converting infrared radiation emitted by a target into an electrical signal. Moreover, the sensors are well suited for environments that have a lot of interference since they do not require signal amplification, signal conversion, or noise reduction. The hallmark of Exergen is its Sensoranics methodology, a proprietary, integrated approach to developing best-in-class infrared (IR) temperature sensor solutions for complex production processes across all industries. The basics of this unique approach encompass an in-depth understanding of how IR waves interact with material surfaces and how thermal energy is absorbed, reflected, and conducted by materials.
In addition, since harsh environments can limit the performance of sensors, Exergen leverages mechanical add-ons to remove those constraints.

Exergen's diverse portfolio of temperature sensors ranges from a quarter-inch in size to bigger and bulkier sensors capable of measuring up to 3000 degrees Celsius. Stelt emphasizes that the company's sensors are deployed by clients worldwide in various applications and are guaranteed to provide accurate measurement to ensure high performance while eliminating chances of mechanical failure. Exergen's sensors achieve this by being unpowered and removing any drift—delivering consistent, repeatable accuracy of <0.2 degrees Celsius even under strenuous conditions.

To design the ideal temperature measurement solution, Exergen's in-house engineering team in collaboration with a client's engineering staff, review and discuss the thermal management aspects of an application. Illustrating the customized approach, Stelt mentions how Exergen worked closely with its strategic partner HP Indigo, a division of HP's Graphics Solutions Business, to develop an IR sensor solution for their high-end printer line that requires accurate temperature measurement of critical components with relatively low emissivity. Low emissivity surfaces are hard to measure with any IR temperature, as they reflect more radiation than they emit. Moreover, the emissivity of the surface can vary due to substrate properties, and ambient condition changes, which most conventional IR thermometry devices do not account for. Conversely, because of Exergen's custom-fitted conical design, the IR sensor was able to prevent ambient radiation from reflecting off the surface being measured, thereby reducing temperature measurement errors. Simultaneously the design allows for cooling and cleaning of the sensor toprevent overheating and contamination in this high ambient temperature and dusty environment. This sensor solution was also proved ideal for thermal management in printing plastics, packaging,and other production processes.

Following its commitment to deliver new innovations, Exergen has introduced Speedboost, a program that leverages Sensoranics to increase production line performance and provide an instant boost in start-up speed. Speedboost combines the material surface temperature data with other non-contact temperature data to calculate the internal temperature of a target, which in turn is used to optimize thermal process monitoring to increase speed. Looking ahead, Exergen intends to launch a new line of compact IR sensors that will meet clients' demands for a more versatile electrical output signal while still providing superior performance and high accuracy. In conclusion, Stelt says, "Exergen remains dedicated to providing thermal management solutions that help clients speed-up their processes and increase production while keeping costs minimal, whilst maintaining the highest possible quality."